Joel Plaskett Emergency Show Added!
It's the Summer of the Khyber! We are happy to partner with the Joel Plaskett Emergency to help raise some funds to protect this iconic downtown Halifax building.
Friday September 4th. Doors at 9:30, 19+ Tickets can be purchased here
For more information about the Summer of the Khyber check out http://friendsofthekhyber.org/, #sotk2015, also read this article by Jacob Boon from The Coast below:
Welcome to the summer of the Khyber
Joel Plaskett concert and other fundraising efforts announced.
Posted By Jacob Boon on
Mon, Jun 22, 2015

at

3:22 PM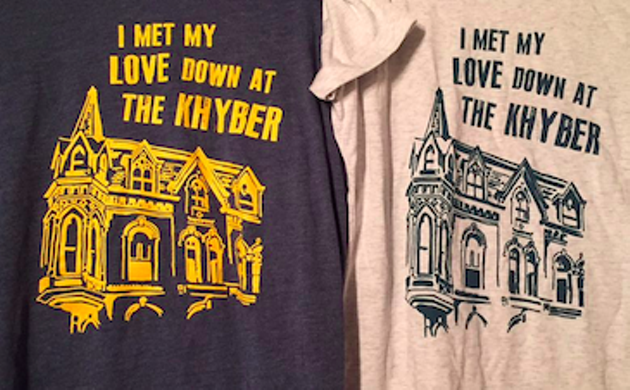 VIA FACEBOOK.
Get these shirts on your back already!
Last summer, friends of the historic Khyber Building on Barrington Street came together with artists, musicians, members of the queer community and heritage-loving Haligonians to save the Khyber from being forever lost.
It didn't really work.
True, 1588 Barrington Street was removed from the city's surplus property list and more study was done looking at options to save the landmark structure. But at the end of the day, the battle was merely delayed.
Now, the Khyber Arts Society, Neptune Theatre, the Friends of the Khyber and several other interested parties are working together on a viable plan for the Khyber's future use as an arts hub. They need your help.
Back in April, HRM council passed a motion giving the Khyber team six months to assemble an economically-viable plan for the building's future use. City staff had previously pegged repair costs at upwards of $4 million.
In anticipation of the next council vote, the group has declared this "The Summer of the Khyber," and are planning several special events and activities to support their goals including a concert with the Joel Plasket Emergency on September 4, at the Shore Club in Hubbards ($30 tickets on sale this week at joelplaskett.com).
Khyber kids can also purchase an "I Met My Love Down at the Khyber" Joel Plasket tour shirt (all proceeds go to the building fund), or just display their civic pride by hanging a "Friend of the Khyber" poster in their windows.
The group is also inviting supporters to cheer on the Halifax Pride Parade in front of the Khyber building, on July 25. All Khyber lovers, "especially anyone with a connection to the Turret," are welcome.
The October vote may well be the last, best chance for the Khyber to survive. The operating costs for the currently empty building are $30,000 a year and several councillors have already expressed their opinion that the structure is unsalvageable. What happens next depends entirely on what the Friends of the Khyber bring forward in the fall.
For more information, contact the Friends online, through Facebook or over Twitter with hashtags #khyberforever and #sotk2015.